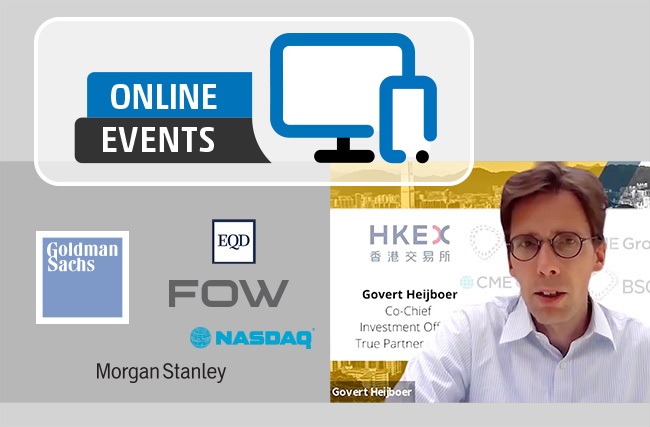 Selection of online events where True Partner will be presenting in December 2020
Following on from its successful participation in other capital introduction events earlier in the year, True Partner has been invited to participate in upcoming capital introduction events being held by Morgan Stanley and Goldman Sachs.
Capital introduction events are open by invitation only and provide an opportunity for appropriately qualified investors to meet with hedge fund managers and learn more about their strategies.
These types of events can provide an opportunity for hedge fund managers to interact with potential investors around the world. Attendees vary by event, and can include a wide variety of investor types such as family offices, consultants, pension funds, endowments, funds of funds, insurance companies, and other institutional investors.

––––––––––––––––

Goldman Sachs
Virtual Views Uncorrelated Strategies Forum
Date: Tuesday, December 1 to Thursday, December 3, 2020.
––––––––––––––––

Morgan Stanley
Virtual US Winter Hedge Fund Forum
Date: Thursday, December 10, 2020

---
Past events where True Partner has been a panelist
RHK Redefining Hong Kong
Can Hong Kong's IPO market maintain its momentum?

RHK facilitates communication and cooperative action among senior executives to pursue like-minded objectives for improving the innovation landscape in Hong Kong. Attendees hear from experts and opinion-leaders, and have their say through roundtable discussions.
What industries are set to have the most success in Hong Kong's IPO markets in the coming year?
Why does the GBA initiative make Hong Kong attractive to investors?
What type of impact does heightened US-China geopolitical tension have on the markets?
Can Hong Kong's IPO markets remain robust after the implementation of the national security law?
Date: November 12, 2020
RHK Redefining Hong Kong website >>
––––––––––––––––
EQDerivatives

The APAC Volatility Investing Forum

In an exclusive virtual forum from EQDerivatives, in partnership with Nasdaq, leading APAC institutional investors will discuss current opportunities in relative value and hedging strategies in global and local APAC markets. Speakers included Govert Heijboer, co-CIO at True Partner Capital.
Date: October 23, 09:00 am Hong Kong Standard Time, 2020
––––––––––––––––
Global Investor FOW

2020 FOW Trading Asia event
In September True Partner Capital was a panel member at FOW's Trading Asia Online Conference. Below is a short compilation of the event.
True Partner Co-CIO Govert Heijboer discussed topics like:
The driving factors to set-up the fund
Options to be perceived as risky
How did switching to working from home posture go
Market-making; did models work regardless of busy periods in the market
The desire to do more Weekly options in Hong Kong
Date: 17 and 18 September 2020

Full recording by FOW on YouTube >>
–––––––––––––––––––––––––––––––