What is normal?
Normally, a balanced portfolio containing both equities and bonds (for example the traditional 60-40 portfolio) would have a degree of cushioning in times of market stress, as the rush to safety would raise the bond component while the equity component falters. But with bond yields globally encroaching on zero if not negative rates, that cushioning becomes ever more uncertain going forward. Whereas US treasuries did rally in the flight to safety of the COVID-19 crisis, holders of German Bunds or Japanese JGB's were less fortunate, as depicted in the graph below.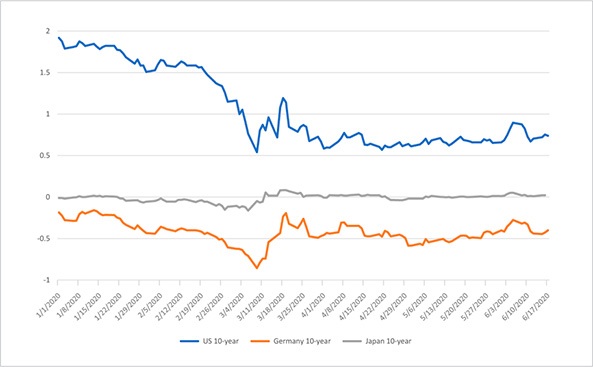 With the Fed already arguably all in on easing, could the muted reaction of JGBs and Bunds be a signal for the behavior of US Treasuries in the next crisis? Despite initially rallying, the Japanese and German government bond total return indices actually finished March negative for the month as the dash for cash unfolded. JGB total returns remain negative YTD. What will happen if fiscal and monetary policy succeeds in returning economies to more normal levels of inflation and central banks need to start tightening again? "Normality" looks like a stress scenario for bonds at the moment. Perhaps the performance of volatility in the first quarter of 2020 may mean that volatility itself comes back into focus as a diversifying asset class, one where, given the high volatility that volatility itself has, we believe there are strong benefits from active management.
Remember the storm clouds we described previously. The Summer is generally perceived to be a quiet time for markets, thus reactions when a shock does occur tend to be larger. In nearly ten years since the inception of the True Partner Fund, the month of August has been one of the more favorable ones for the Fund and this looks like another Summer where the trading screen could be more exciting than the "socially distanced" beach.
Regardless of the market direction, we will strive to provide our investors with the positive alpha and negatively correlated returns we have generated throughout the past decade and wish all our readers good health and profitable markets.
–––––––––––––––––––––––––––––––
About the authors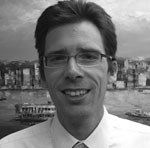 Mr. Govert Heijboer, Co-CIO of True Partner, has been active as a market maker trading in the European and Asian derivatives markets as well as positional trading since 2003. Govert started as a trader/researcher at Saen Options in Amsterdam and rose to become the director of derivatives trading and a member of the executive team in 2007. In 2008 he moved to Hong Kong to set up and assume responsibility for all trading activities in the new Saen Options Hong Kong branch office. Govert holds a PhD in Management Science and an MSc in Applied Physics from the University of Twente, Netherlands. He is a founding partner and has worked on the launch of the True Partner Fund since March 2010.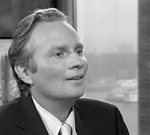 Mr. Tobias Hekster, Co-CIO of True Partner, has been actively trading for the past 21 years in various different roles in several markets across the globe. Starting at IMC in 1998 as a pit trader in Amsterdam, Tobias has established the off-floor arbitrage desk, headed the Chicago office in the transition from floor trading to electronic trading and set up the Asian volatility arbitrage desk in Hong Kong. Tobias holds an MSc in Economics from University of Groningen, Netherlands. Next to his role as Senior Strategist, he taught as an Adjunct Associate Professor at the Chinese University of Hong Kong and as an Adjunct Professor of Financial Practice at National Taiwan University.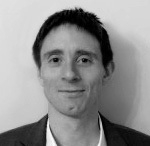 Mr. Robert Kavanagh, CFA, Head of Investment Solutions of True Partner, has been in the hedge fund industry since 2004 and joined True Partner in 2019. Prior to joining True Partner he was an Executive Director at Goldman Sachs Asset Management where he spent 15 years within the Alternative Investments & Manager Selection (AIMS) group. Robert has extensive experience investing in hedge funds and working with a wide range of hedge fund investors. Robert is a CFA charterholder and holds a First Class (Honours) BSc in Philosophy and Politics from the University of Bristol, UK, where he was awarded a Social Sciences Scholarship.
–––––––––––––––––––––––––––––––
The full publication of this article is available as a PDF. Download it following the link below:
True Partner Capital - article June 2020>>
–––––––––––––––––––––––––––––––
1. Elle Koeze. "The $600 Unemployment Booster Shot, State by State". The New York Times, April 23rd 2020
–––––––––––––––––––––––––––––––

Published by Ralph van Put