Nanhua Futures and True Partner Capital creating opportunities to launch hedge funds in China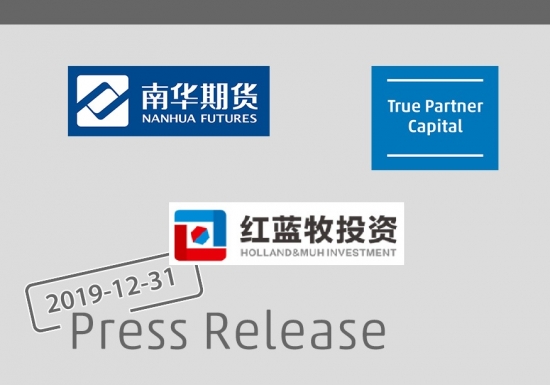 Hong Kong – December 31th2019
Nanhua Futures Co Ltd (603093.CH Shanghai / 南华期货股份有限公司) and True Partner Capital have signed an agreement that both companies will acquire an equity stake in the China licensed asset management company Holland & Muh (浙江红蓝牧投资管理有限公司).
Given the recent developments in the mainland China capital markets, both companies strongly believe that by combining their expertise and know-how, will enable them to capture the rising opportunities in derivatives and equity trading in China.
The extensive investors network that Nanhua Futures has been building over more than a quarter of a century, combined with the trading expertise & technology of True Partner Capital makes the partnership unique and great new opportunities to launch hedge funds in China. Holland & Muh is expected to launch its first China options & futures hedge fund in the first half of 2020.

David Luo, Chairman of Nanhua Futures Co Ltd: "We are looking very much forward to partnering with True Partner Capital. Given their enormous expertise in trading global options & futures will allow us to offer better fund management services to investors."
Ralph van Put, CEO True Partner Capital: "We are very honored being able to partner with such a great firm and well-established name in China. Nanhua Futures has a tremendous track record and is one of the leading listed FCM firms in China. With the equity acquisition by both firms in the licensed Asset Manager Holland & Muh, we will be able to deploy our derivatives trading & technology in China. The launch of the China options & futures hedge fund by Holland & Muh will uniquely allow China based investors to add volatility arbitrage to their asset allocation and portfolio composition!"
–––

About Nanhua Futures Co., Ltd. (603093.CH Shanghai): The company operates futures brokerage and related businesses. The Company offers commodity futures brokerage, financial futures brokerage, asset management, and fund distribution services. Nanhua Futures, together with its subsidiary companies, provides services for worldwide customers.
About True Partner Capital: True Partner Capital is a team of former market makers and IT specialists that have been working together for more than 15 years. Their combined expertise on trading, execution and risk management as well as the proprietary trading technology, allows the team to identify and capitalize on trading opportunities. With a firm AuM of more than 1 billion USD, True Partner's trading strategies cover the global derivatives capital markets.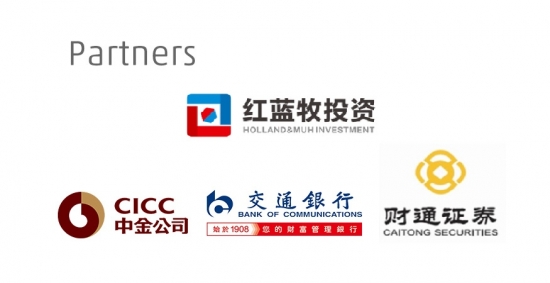 –––––––––––––––––––––––––––––––
2019年12月31日新闻公告


南华期货(上证股票代码603093)和True Partner Capital参股中国私募基金管理人红蓝牧
南华期货股份有限公司(上证股票代码603093)与True Partner Capital签订合约,双方将投资参股中国的私募基金管理公司:浙江红蓝牧投资管理有限公司。
鉴于中国大陆资本市场的近期发展,两家公司坚信,通过结合双方的专业知识及技能,将使他们能够抓住中国衍生品及股权交易中不断增多的机会。
南华期货在二十多年里所建立的广泛投资者网络,结合True Partner Capital专业的交易能力及技术,使得本次合作独一无二。合作亦为双方带来在中国发行对冲基金的巨大新机会。红蓝牧有望于2020年上半年发行它的首支中国期权期货对冲基金。

南华期货公司董事长罗旭峰表示:"我们非常期待与True Partner Capital合作。他们在全球期权及期货交易领域深厚的专业知识,将有助于我们更好的为投资者提供基金管理服务。
True Partner Capital首席执行官Ralph van Put表示:"我们很荣幸能够在中国与一家如此卓越而享有盛誉的公司合作。南华期货拥有斐然的业绩记录,是中国领先的上市期货公司之一。随着双方增资入股中国的私募基金管理人红蓝牧,我们将能够在中国部署我们的衍生品交易及技术。由红蓝牧发行的中国期权期货对冲基金,将针对中国的投资者,使其可以在其资产配置和投资组合中增加波动性套利!
–––
关于南华期货股份有限公司(上交所股票代码603093):公司经营期货经纪及相关业务,提供商品期货经纪、金融期货经纪、资产管理、基金代销等服务。南华期货及其旗下子公司为全球客户提供服务。
关于True Partner Capital:True Partner Capital是一支由前做市商及IT专家组成的团队,已共事超过 15 年。通过交易、执行和风险管理方面的专业知识以及专有交易技术的融合,使团队能够识别并利用交易机会。True Partner 的交易策略涵盖全球衍生品资本市场,公司旗下资产管理总额超过 10 亿美元。
–––––––––––––––––––––––––––––––
This Press Release can be downloaded as a PDF:
Equity stake in Holland & Muh>>
Published by Ralph van Put