On-the-job training for state-of-the-art software and hardware by seasoned professionals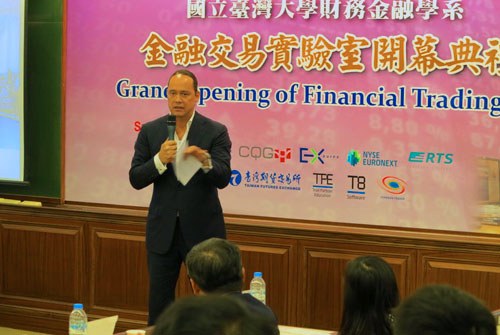 Professor Ralph van Put at the opening speech
This article is published by the National Taiwan University at http://goo.gl/xsHQa

Trading is an important part of financial markets. A liquid secondary market is not only one of the indicators for the development of markets; it can also improve the financing of the primary market. The traditional way to develop good traders is to use on-the-job training, not school education. To change this tradition requires both state-of-the-art software and hardware and seasoned professionals who have interest in education.
Through the help of Dr. Sou-Shan Wu (Chairman of the Securities & Futures Institute), Miss Carolyn Chou (Vice Chairman of the Yuanta Futures), and Mr. Michael Hsih (Senior Vice President of Eurex), Mr. Ralph van Put, the CEO of True Partner Holding, agrees to offer trading courses in Taiwan. Through a long-time planning, hard work, and sponsorship from all sides, we renovated the trading lab in the National Taiwan University. Mr. van Put and Mr. Tobias Hekster from the True Partner Education agree to serve as the Adjunct Professor of Financial Practice at the Department of Finance of the National Taiwan University. The two courses offered are Derivatives Trading and Algorithmic Trading Strategies, Arbitrage and HFT. Mr. van Put and Hekster are well-experienced practitioners in the industry and they also serve as the Adjunct Professor at the Chinese University of Hong Kong.
This trading lab is a joint work of all sponsors and matches international standards. Right from the beginning, the consensus is that we should fully utilize its facility by offering courses both to students and to practitioners. Therefore at the same time, the Securities & Futures Institute will offer courses on financial trading to local practitioners with the help of Mr. van Put.
The sponsor list of this trading lab includes the Asia Etrading, Bloomberg, CQG, Eurex, NYSE Euronext, Reuters, RTS Realtime Systems, Securities & Futures Institute, T8 Software, Taiwan Futures Exchange, and True Partner Education.
The trading lab has a capacity of 52 students and is located at the second floor of the Instruction and Research Center of College of Management of National Taiwan University. The hardware includes professional trading tables, 2 projectors, 104 monitors, 52 computers, and 5 servers. Trading software includes T8 Typhoon Trader, CQG, and RTS Tango. The real time information systems used are from Reuters and Bloomberg.
The predecessor of the trading lab is the NTU Polaris Financial Teaching and Research Center, which is sponsored by Polaris Securities Group in January 2005.
–––––––––––––––––––––––––––––––