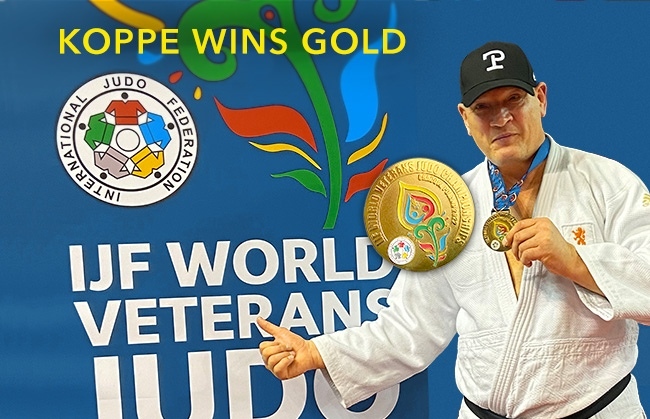 We are proud to have a world champion among the True Partner team. Our Managing Director of the Amsterdam office, Hendrik Koppe, who is a veteran judo practitioner for over 55 years, beat his Italian opponent in the final with a judo move called Tani-otoshi (valley drop).
In both his sport and working career, Hendrik has achieved quite some successes. Besides 11 International Judo Federation World Championship ("WC") titles, he also has 9 European Championship ("EC") titles.
Prior to his appointment at True Partner Capital, he served for thirty-two years at Euronext (the Dutch exchange) mainly as the Director of Clearing services responsible for managing the clearing contracts (cash & derivatives) and relations with LCH SA and EuroCCP. He was also Director of Euronext market services, the first line monitoring of trading on the Euronext derivatives markets.
Judo running through the veins
The philosophy of life with judo is in the veins of the Koppe family. Hendrik's father was active in judo, jiu-jitsu and karate; it is therefore not surprising that Hendrik started judo at the age of 5 in his hometown Amsterdam.
It took about 24 years of continuous practice to win his first medal, becoming 3rd of the Dutch seniors in the +95 kg class. He won 3 more medals in the NK (Dutch Championships) from 1994 to 1999 in the +100kg class.
The next big step in his judo journey was established in 2008, when he became the European champion with the Veterans. From 2008 to 2019, he won the EC 9 times.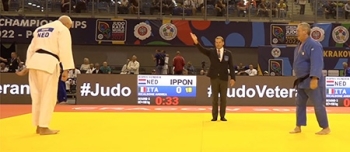 In addition to the EC victories, he became a world champion in 2009. And scored his latest victory this September 2022 at the WC in Poland to have an impressive total of 11 world titles as a judoka in the +100kg class for Veterans.
Good preparation leads to winning the match
He usually trains 4 to 5 times a week, and more frequently while preparing for a tournament. Nowadays, he wins every event, time after time. "That's no coincidence," says Koppe. "Sometimes I hear: if you skip half the trainings, you still win. Maybe it's true, but I enjoy learning and getting better every day. And I just want to win with ease." According to Koppe, defending the world title also motivates to work towards victory every time. "Being a world champion for such a long period makes spectators hope for an opponent to beat me."
Besides the good preparation, Koppe's attacking style is a success factor. He forces the opponent into a difficult position as quickly as possible to create the best chances for a successful move at the right moment. "If you have a lot of scoring options, the victory is not a coincidence," says Koppe.
Success by continuous improvement
Hendrik: "Success doesn't come easily, I work hard for it. The only question to focus on is how." With his dedication to judo, he has developed a concept to achieve ambitious goals. "It's all in the preparation, and that includes the match day. If you describe this plan well and you stick to it, then success will come your way." He has further refined the concept over the years while preserving the sparkle, and added extra elements to make it better. All in the spirit of Jigoro Kano, the founder of judo: "It is not important to be better than someone else, but to be better than you were yesterday." The high number of trainings besides working on his body and mind gives Koppe inner peace to keep it up in the long run.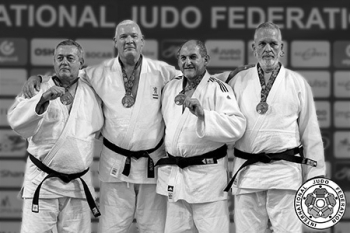 Friendships and sport hand in hand
The tournaments can present challenges in terms of timetable. Sometimes the EC and WC are right behind each other, which requires careful planning. The schedule of training sessions for the tournaments is intensive and time-consuming. Sometimes there is a long time between the tournaments. In those cases, he continues training a lot: swimming, strength training, judo or cycling on a racing bike.
If required, he also trains intensively during holidays, like a summer holiday in Spain in which Hendrik trained 16 of the 18 days. "Working towards such a goal as the WC motivates to prepare even better, it feels good to work towards that victory," Hendrik says. He has skipped some EC's though: "Sometimes the EC overlaps a holiday with my family and friends. Then fun with my family and friends wins."
–––––––––––––––––––––––––––––––
Information from the International Judo Federation (IJF)

General website:
www.ijf.org
Matches of Hendrik Koppe at the IJF website:
Hendrik Koppe at ijf.org

Jigoro Kano is the founder of judo:
Jigoro Kano at ijf.org
How the Tani-otoshi (valley drop) works:
judo.ijf.org
The ranking in judo:
ijf.org