True Partner adds London-based Kavanagh as Europe clients grow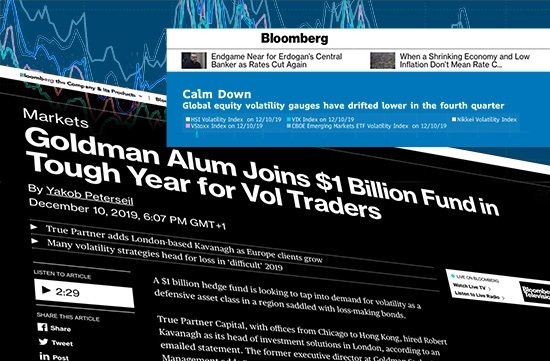 Website headline about True Partner Capital on 2019-12-10
In a publication by Bloomberg the platform writes about our expansion. Next to offices in Hong Kong, Chicago and Amsterdam, True Partner Capital now adds presence in the London area.
–––––––––––––––––––––––––––––––
Bloomberg:
A $1 billion hedge fund is looking to tap into demand for volatility as a defensive asset class in a region saddled with loss-making bonds.

True Partner Capital, with offices from Chicago to Hong Kong, hired Robert Kavanagh as its head of investment solutions in London, according to an emailed statement. The former executive director at Goldman Sachs Asset Management adds "a more local presence" in Europe where an increasing number of the firm's clients are based, the memo said.
True Partner's flagship fund follows a relative-value strategy that seeks to earn steady returns from long and short positions across volatility markets.
With the world's largest stock of negative-yielding debt, money managers in Europe are paying a punishing price for bonds to protect against a sell-off in risky assets. That could spur traders to look at alternative hedges like betting on price swings in stocks - even as some versions of the investing style struggle to make money in the market calm.
"Bonds have been a good diversifier for some in 2019 but investors now face very low and often negative yields," said Tobias Hekster, co-chief investment officer. "Volatility is now back at levels close to historical lows in some markets and that is prompting some to look again at this space."
True Partner has received more client interest this year, after roughly doubling assets in 2018 in the wake of big gains for its flagship volatility strategy, according to Hekster. During last February's volpocalypse, the firm's relative-value fund rose 21.4%.
But the former pit trader concedes 2019 has been a "difficult year" for the strategies. True Partner's flagship was down 6.6% through Oct. 31, according to an investor letter.
–––––––––––––––––––––––––––––––
The full publication is available on Bloomberg:
www.bloomberg.com

Author: Yakob Peterseil
With assistance by Tasos Vossos
December 10th, 2019

©2019 Bloomberg L.P.