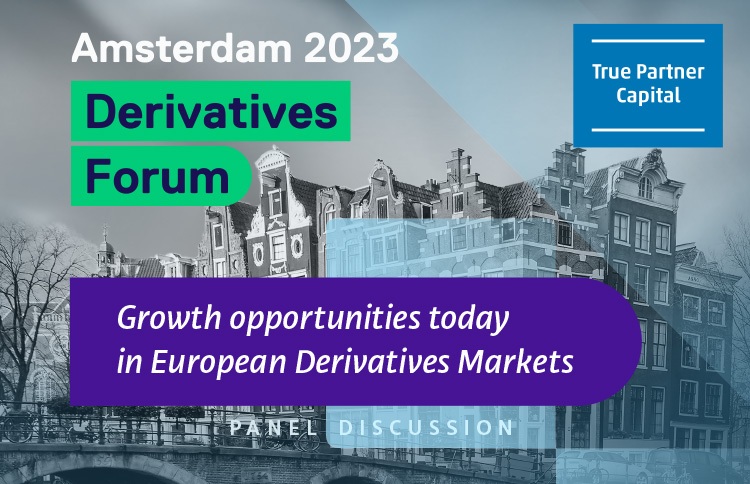 The Derivatives Forum Amsterdam on 26 September 2023 is an in-person gathering for various market participants across the derivatives space, including hedge fund managers, industry experts and senior investment professionals. Through various panels and speakers, participants can exchange knowledge and provide thought leadership around derivatives markets.
True Partner participates in panel
During the event, Tobias Hekster, Co-CIO of True Partner Capital in Chicago will participate in the panel "Growth opportunities today in European Derivatives Markets", providing True Partner's insights on developments in options markets and volatility trading to the panel, which promises to be an interesting discussion.
Selection of topics discussed by the panel:
How can we emulate the growth we have seen in US options markets in Europe?
How to bring retail flow to the listed market in Europe?
What products have the biggest growth opportunities?
Daily Options or how Zero-Day-Options bring new flows to the on-book
Tobias Hekster has been actively trading for the past 25 years in various different roles in several markets across the globe. Starting at IMC in 1998 as a pit trader in Amsterdam, Tobias has established the off-floor arbitrage desk, headed the Chicago office in the transition from floor trading to electronic trading and set up the Asian volatility arbitrage desk in Hong Kong.
Tobias holds a MSc in Economics and has taught as an Adjunct Associate Professor at the Chinese University of Hong Kong and as an Adjunct Professor of Financial Practice at National Taiwan University.
During the years he worked at the Hong Kong office of True Partner, he has been interviewed by Bloomberg TV regularly to discuss geopolitical events and its implications on volatility in Asia.
Date and venue
26 September 2023, 9:30 am - 6:00 pm
ABN AMRO Corporate Headquarters, Amsterdam
–––––––––––––––––––––––––––––––
More information on the Derivatives Forum Amsterdam event: