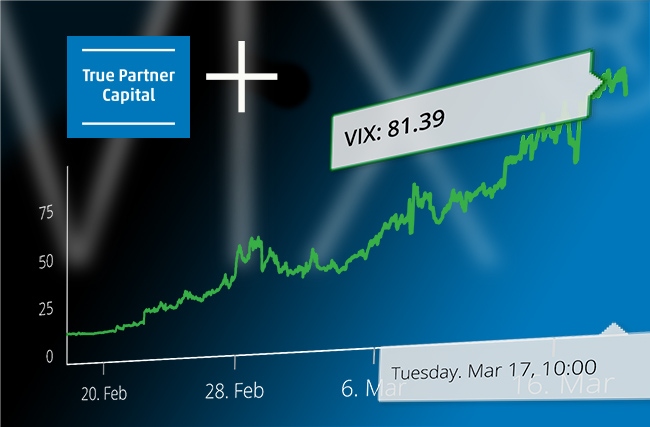 Hong Kong, 03-2020. Shortened version of Bloomberg article written by Bei Hu and David Ramli.
The various performance results reported in the shortened Bloomberg article below are only estimates. This material is not in any way intended to solicit investment. Any discussions of past performance should not be taken as an indication of future results, and no representation, expressed or implied, is made regarding future results.

–––––––––––––––––––––––––––––––

Volatility and bearish funds are thriving in some of the wildest markets since the Great Depression.
Gauges of market anxiety, including the Cboe Volatility Index, have surged in recent weeks amid the Covid-19 pandemic and oil-price shock. The S&P 500 has seen three straight moves of at least 9% -- a streak last notched during the Great Depression. The VIX, also known as the fear gauge, has soared more than five-fold within a month.
The True Partner Fund, True Partner Capital's flagship relative-value hedge fund, which profits from mainly equity index options that either overprice or underprice stock swings, returned almost 3% in the first 13 days of March 2020.
The firm's other fund, which benefits from surges in volatility, rose 4% this month to extend this year's advance to 10%.
True Partner, which has offices from Hong Kong to Chicago, oversees $1.2 billion. With volatility already elevated, the firm expects to see more short-term, perhaps intra-day, trading opportunities, Chicago-based co-CIO Tobias Hekster said in an interview.
Investors repositioning themselves may move volatility implied by options in one market out of sync with other markets, and with actual swings in cash equity markets, he said.
"The focus will be more on the overall economic impact," Hekster said. "That is more of a global issue and, in our view, that might lead to these pockets of mis-pricing where different markets react asynchronous to the same event."

–––––––––––––––––––––––––––––––
Written by:

Bei Hu, bhu5@bloomberg.net
David Ramli, dramli1@bloomberg.net
Published by Ralph van Put