Publication on bloomberg.com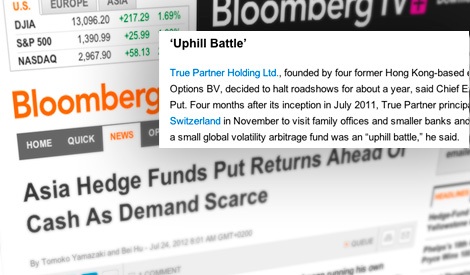 Article with Ralph van Put, CEO of True Partner Holding Ltd.
Uphill Battle
True Partner Holding Ltd., founded by four former Hong Kong-based employees of Saen Options BV, decided to halt roadshows for about a year, said Chief Executive Officer Ralph van Put. Four months after its inception in July 2011, True Partner principals went on a trip to Switzerland in November to visit family offices and smaller banks and realized raising money for a small global volatility arbitrage fund was an "uphill battle," he said.
Before the four set up the Hong Kong-based hedge fund, they had generated a 70 percent return over two years trading their own capital after leaving Saen, an Amsterdam-based market-maker, in 2009, said van Put.
"We were always doing proprietary trading and never had any clients," said van Put. "So you can imagine for us raising capital is somewhat difficult, not being in the asset-management business for a long time."
True Partner began trading with $22 million from its partners and seed capital from Samena Asia Managers, which backs young hedge funds. True Partner's fund returned 16.5 percent from inception through June, said van Put. It has increased assets to $34 million with investments from wealthy individuals and plans to resume marketing trips in September, he said.

–––––––––––––––––––––––––––––––
The full article is available at Bloomberg.com
Go to the article at Bloomberg