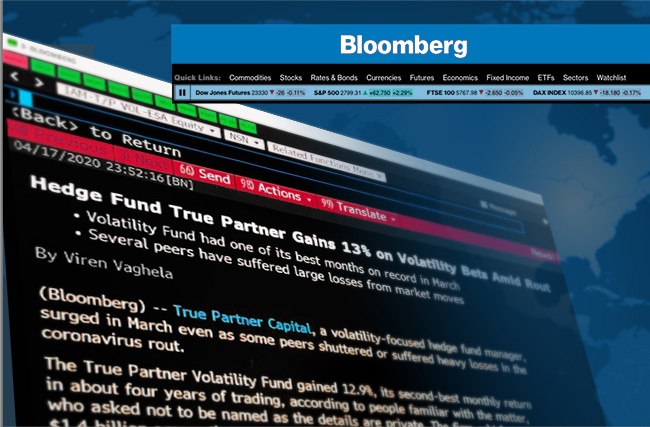 Hong Kong, 04-2020. Shortened version of Bloomberg article written by Viren Vaghela.

The various performance results reported in the shortened Bloomberg article below are only estimates. This material is not in any way intended to solicit investment. Any discussions of past performance should not be taken as an indication of future results, and no representation, expressed or implied, is made regarding future results.

–––––––––––––––––––––––––––––––

True Partner Capital, a volatility-focused hedge fund manager, surged in March even as some peers shuttered or suffered heavy losses in the coronavirus rout.
The True Partner Volatility Fund gained 12.9%, its second-best monthly return in about four years of trading, according to people familiar with the matter, who asked not to be named as the details are private. The firm, which manages $1.4 billion across three money pools, makes relative-value bets on major indexes.
"Our biggest gains came during the most difficult period for equity markets, but we also made some money as markets rebounded," co-Chief Investment Officer Tobias Hekster said in an interview from Chicago, without commenting on individual fund performance. "We are continuously making small trades in liquid options markets instead of placing large directional bets."
Other volatility shops struggled as the coronavirus laid siege to markets. Hedge funds have waded into a popular trade in recent years, betting that Asian stock indexes such as Japan's Nikkei 225 would realize more volatility than the S&P 500 index during a turbulent global event. Some funds were caught out when the opposite happened in March.
True Partner was positioned in February to go long U.S. volatility and short in Asia, according to an investor letter, helping it take advantage of market dislocations in March.
–––––––––––––––––––––––––––––––
Written by:
Viren Vaghela in London at vvaghela1@bloomberg.net



Published by Ralph van Put