Portfolio management in 3 time zones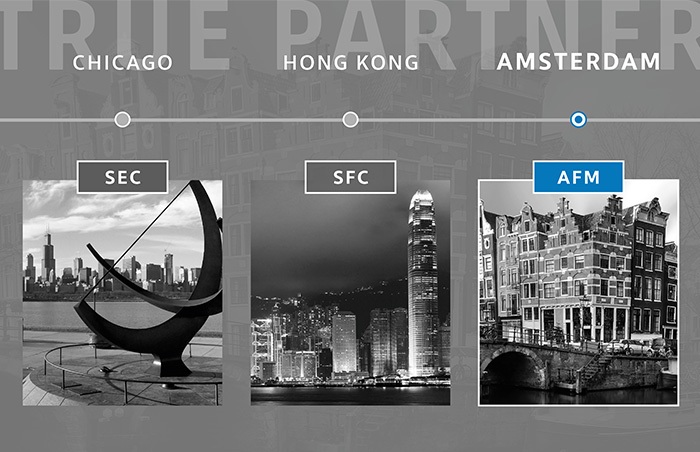 On March 24th, 2022, The Dutch Authority for the Financial Markets ("AFM") granted True Partner Capital Netherlands BV ("TPCNL") the license to operate as an investment firm as referred to in Section 2:96 of the Dutch Financial Supervision Act ("Wft"). TPCNL applied for this investment firm license in order to be able to provide investment services ("Verlenen van een beleggingsdienst") as per category "c", Section 1:1 Wft: Portfolio Management ("Beheren van een individueel vermogen")
Investment service and European portfolio manager
Initially, this will allow TPCNL to provide investment services to its affiliated entities, True Partner Capital USA Holding, Inc. and True Partner Advisor Hong Kong Limited. Adding TPCNL to our global asset management structure will further strengthen our ability to efficiently execute our trading strategies around the clock (i.e. 24/5). Furthermore, when future opportunities to do so arise, we envision TPCNL to provide investment services to external professional investors within the Netherlands and other EU countries as well.
Minimizing the impact of potential disruptions
From the perspective of redundancy, the Amsterdam office is now part of the global Business Continuity Plan of True Partner Capital and can act as a back-up location for the other trading locations, should any of these offices become incapacitated. Our technological set-up is such that each of the TPC group's trading offices can take over our portfolio management activities at any moment.
"We are very pleased with this Mifid II license" according to Hendrik Koppe, MD of TPC NL. "It's an important step forward for our firm, being able to further develop our asset management offerings to European investors. And importantly, with this license we will also be able to launch our own UCITS offerings from Amsterdam in the near future".
–––––––––––––––––––––––––––––––
For more information about the AFM: